ASG Services utilize some of the most advanced machines and equipment for the production of barcode floor labels. The durability needed for a label being applied to the floor of a distribution center, is greater than any other label produced by ASG Services.
Our products are designed for ease of use. They are easy to read, to scan and to be as big as possible without making them susceptible to impact. Damage caused by forklift trucks is inevitable, so positioning of a floor label is just as important as how strong it is made.
Clear layouts, mono and full color print make our adhesive barcode labels unique to the customer. They are always fully customized as requested. Read more about our warehouse label designs.
At ASG Services, we offer several types of barcode labels, including high performance self adhesive, aluminum framed and temporary variations. Each type offers a specific benefit through durability, application difficulty and price.
All printed barcodes are laser processed using the latest high definition machines. This ensures the barcodes are created with the highest verification performance available.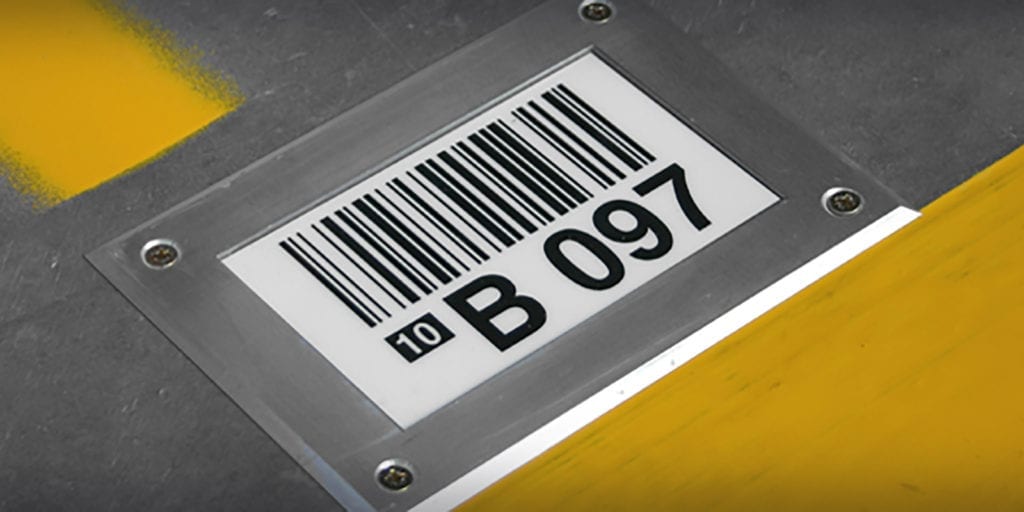 The highest performance and lowest cost floor label, is our plastic composite range. These are a 7 part product combined in a thermal process. They are cheap and easy to apply, a great great option. Their strength comes from a combination of pressure heat treatment and non-tear base materials. They are not indestructible and they will become damaged, as with every floor label available, but they are exceptionally strong and used by many of the leading distribution centers nationwide.
Installation is made easy with a self adhesive backing. A number of adhesives are available for standard floors and cold store environments. All adhesive labels require the surface to be thoroughly cleaned before application. Frame protectors may be added for protection and require concrete drilling to anchor them. We can supply hardware for installation.
ASG Services installation teams are fully trained and insured to work on any customer site through the USA. Floor barcode labels are easy to install, however in large quantities it is often more cost effective to use our teams.
If you need samples or you want to speak to us about pricing and technical questions, please feel free, we will be happy to help. Click here for our contact details or check out more of our rack labels.